Here are some translations and African nation-tans!





Originals here. The link to these is apparently removed from the main site so these might be discarded drafts?

■イタリア■
【設定】

■Italy■
[setting]

・女の子と美味しい御飯とおひさまが大好きな南国のヘタレ青年。
・A useless young man of a southern country who loves girls, delicious food and the sun.
・喜怒哀楽が激しく少し泣き虫。趣味は絵を描くこととシエスタ。
・His emotions are intense and he is a bit of a crybaby. His hobbies are drawing and siesta.
・なんか近づくとヴぇーって音がする。鳴き声か何か。扇風機に声あてた時のような音。
・If you approach him he seems to make a "Vee~" sound. His crying voice sounds somewhat like when you yell against an electric fan.
・くるんは「イタリア人の性的な何か」
・The curl is "the sexual something of the Italians"
・ドイツもだが一時成長不良起こしてたため周辺国より設定年齢は低め。
・This goes for Germany as well but because he didn't grow up much at one point of time I made his apparent age lower than his neighbours'.

・良く言えばかなりおおらか悪く言えばちゃらんぽらんな性格。
・Nicely said he is quite big hearted, badly said he is a sloppy personality.
・商売上手だが、色々あってやる気をなくした兄がいるため、家計は微妙に苦しい。
・He has a good head for business but since a lot happened and there is his brother who lost his motivation to do anything, their house's economy is slightly difficult.

・何かあるとドイツにたよるくせがある。そしてなぜか周辺国も甘やかすのが不思議だ。
・He has a habit of relying on Germany. Also, it's a mystery why his neighbouring countries pamper him.
・エチオピアとケンカして世界中からハブにされたときもアメリカやフランス、ドイツ
 に甘やかされて結局大した打撃はうけなかった。
・When he ended up in the hub of the world's attention because of his fight with Ethiopia, he was helped by America, France, Germany etc. so in the end he didn't get hit at all.

・このまんが描くきっかけになった国。
・He is the country that is the motive to draw this comic
・身体的にはそんなに弱くないのに、「可愛い女の子が見てない」「敵が怖い」などの理由でヘタレに。
・Physically he is not not that weak but because of "there are no cute girls watching", "the enemy is scary" and such reasons he's useless.



■日本■
■Japan■

・世界史の後半に突如出現したのにもかかわらず、ものすごい成長をみせた
 東洋の神秘が詰まった島国。性格は寡黙で、大人しい働き者。少々自虐的。
・Even though he only showed up in the latter half of the world history, he has shown a great growth and he is called the eastern island nation filled with miracles. His personality is shy, quiet and hardworking. He is just tiny bit masochistic.
・引きこもってる間に世界が色々激変していたが10年で慣れた。
・While he was staying confined (being hikikomori) the world went through many kinds of sudden changes but he got used to them in 10 years.
・自分の意見をあまり口にしないため、周りからは何を考えてるか分からないような印象をもたれる。
 実際は人の何倍も色んなことを考え、そしてそれを胸にしまったままにしている。
 ためすぎると100年単位で爆発するので注意が必要。
・Since he doesn't often voice his own opinions, he gives the surrounding people the impression that they can't tell what he's thinking.
In fact he is thinking about countless different things and taking them in his heart.
If it builds up too much he'll explode with 100 years level so caution is needed.

・自然の中に八百万の神を見出す不思議な宗教感の持ち主。
 そして正月も祝えばクリスマスも祝う。
・He has a mysterious religion which has the belief that there are myriads of gods in the nature.
And he celebrates both Christmas and New Year.
・世界的に見てかなり変わった文化を持ってるが「自分は普通、自分は地味」と思ってる。
・Even though he has a quite strange culture from worldwide perspective, he thinks he is normal and plain.
・海外の文化を自分流にアレンジするのが得意。
・His speciality is to arrange overseas cultures into his own style.
・こう見えても結構な爺さん。だが同盟国の二国からは年下だと思われてる。
・Even seen like this, he is very much an old man. But he's thought to be their junior by his two allies.


■スペイン■
■Spain■

・空気は徹底的に読めない。読む気もない。
・He is completely unable to read situations. He doesn't even try.
・大らかで陽気な性格の元太陽が沈まない国。
・He is a country of everlasting sunshine which is the source of his big hearted, cheerful personality.
・本当にノリノリだったのは一時期だけでオランダやイギリスにぼこぼこにされ、
 追い打ちに新入りアメリカに叩きのめされ大国の座を引きずりおろされて、
 周りの大国に振り回されるかわいそうな歴史を歩んだ。
・He used to be in really high spirits but in a short time he was beaten down by England and Holland.
He has walked through a pitiful history of being knocked down from his seat of a major power by the newcomer America he was going after and showed of by the surrounding major powers.
・なぜか南イタリアだけは自分の財布が破産していても可愛がり続けた。
・For some reason only with South Italy he stays affectionate even when he's bankrupting his purse.

・オーストリアとは策略結婚により同じハプスブルク家になった。
 立場的にはスペインの方が兄にあたる。スペイン継承戦争によってこの関係は終止符を打たれた。
・He became related to the same Habsburg family with Austria through arranged marriage.
Spain got appointed with the older brother. This relationship ended completely in with the War of the Spanish Succession.
・フランスとは腐れ縁。ピエール1号はスペインとの連絡用。
・He has an undesirable but inseparable relationship with France. Pierre #1 is for communication with Spain.

【どうでもいい話】
[Meaningless things]
友達のスペイン人のおかげで関西弁になった可哀そうなキャラ。
He became this Kansai-ben speaking pitiful character thanks to a Spanish friend.
でも関西弁でよかったなと思う。あとハプスブルク家で結ばれた二国ですが
スペインの方が兄にあたるのには少し驚きました。兄の方が短命っていうのも切ないですね。
But I think it's good that he got Kansai-ben. Also, about the two countries linked by the Habsburg-family, I was a little surprised that Spain got the older brother. It's also sad that the big brother's life was shorter.


Working on Austria and Hungary now but they are a bit difficult so I need to check a few things. I have to say they are really interesting so far, though!




PREVIEW: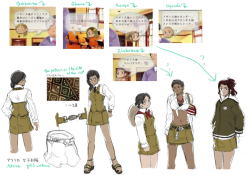 All information from the comments of this post. I just thought I'd post these like this too since I at least didn't know these pictures and all existed.






Lots of girls!

The turquoise notes are mine, btw.

Uganda says that the name Uganda comes from the old Buganda Kingdom.

Kenya says her(?) favourite food is nyama choma. (thank you
natures_song!)

Botswana's speciality food is seswaa. He/she also says something else but I'm afraid I can't read it...

All of them say they belong to England or something like that. xD;




Why are all the Africans so pale? FAIL, Himaruya, FAIL.