Just selling a few Hetalia doujinshi & goodies, Information & Pictures are under the cut. Thanks for looking!
-shipping: is not included (to calculate shipping please pm or comment with your zip code) shipping is from a US address.
-I ship on Saturdays
-payment: paypal preferred. concealed check and cash at your own risk.
-all items are in perfect condition.
-i wil be more than happy to provide sample scans or additional photo's per request.
-if you have any questions please leave me a comment or a pm and i'll get back to you asap.
-some items have question marks in certain area fields due to my lack of translating abilities. If you notice any mistakes or have any additional information, please let me know I will be more than happy to fix them.
-Thank You for looking.


A.
Title: A Box
Circle: C.
Pages: 76
Pairing: America x England
Price: $25
B.
Title: Holidy
Circle: C.
Pages: 36
Pairing: America x England
Price: $12
C.
Title: Sweet Hearts
Circle: C.
Pages: 28
Pairing: America x England
Price: $13
D.
Title: Tetoteo
Circle: C.
Pages: 28
Pairing: America x England
Price: $7 ON HOLD
E.
Title: 3way
Circle: C.
Pages: 24
Pairing: America x England +fem!America
Price: $9
F.
Title: make a call (R18)
Circle: MICROMACRO
Pages: 36
Pairing: America x England
Price: $22


G.
Title: Burger ☆ Burger
Circle: Aotsukitei
Pages:20
Pairing: America-centric
Price: $6 ON HOLD
H.
Title: hanazari no kunitachi e!
Circle: Kamigana & Yotsubaya
Pages:56
Pairing: Nordics + Sealand
Price: $12
I.
Title:?
Circle: hoshitamago
Pages:32
Pairing: America x England
Price: $20 ON HOLD
J.
Title: girls will be girls!
Circle: Honey Cheese
Pages: 20
Pairing: female nation centric
Price: $9
K.
Title: The mayugex2
Circle: gamu ga naito ikite yukenai
Pages: 32
Pairing: England x America
Price: $8
L.
Title:?
Circle: gamu ga naito ikite yukenai
Pages:20
Pairing: England x America
Price: $9


M.
Title: Beautiful World (part 1)
Circle: 103
Pages:52 +4 colored
Pairing: America x England
Price: $35
N.
Title: Morning Glory (R18)
Circle: 103
Pages:28
Pairing: America x England
Price: $15
O.
Title: pretty please (R18)
Circle: 103
Pages: 76 + 1 colored map
Pairing: America x England
Price: $25
P.
Title: press gang melancholy
Circle: OMEGA-2D
Pages:36
Pairing: America x England
Price: $16 SOLD
Q.
Title: 恋する妹はせつなくて兄さんを想うとすぐxxxしちゃうの (R18)
Circle: Midorisode
Pages:12
Pairing: Belarus x Russia
Price: $3
R.
Title: every way that I can
Circle:Hi-Boy:Mayoikoinu
Pages:24
Pairing: England x America
Price: $8

hetalia mascot charms:$6 each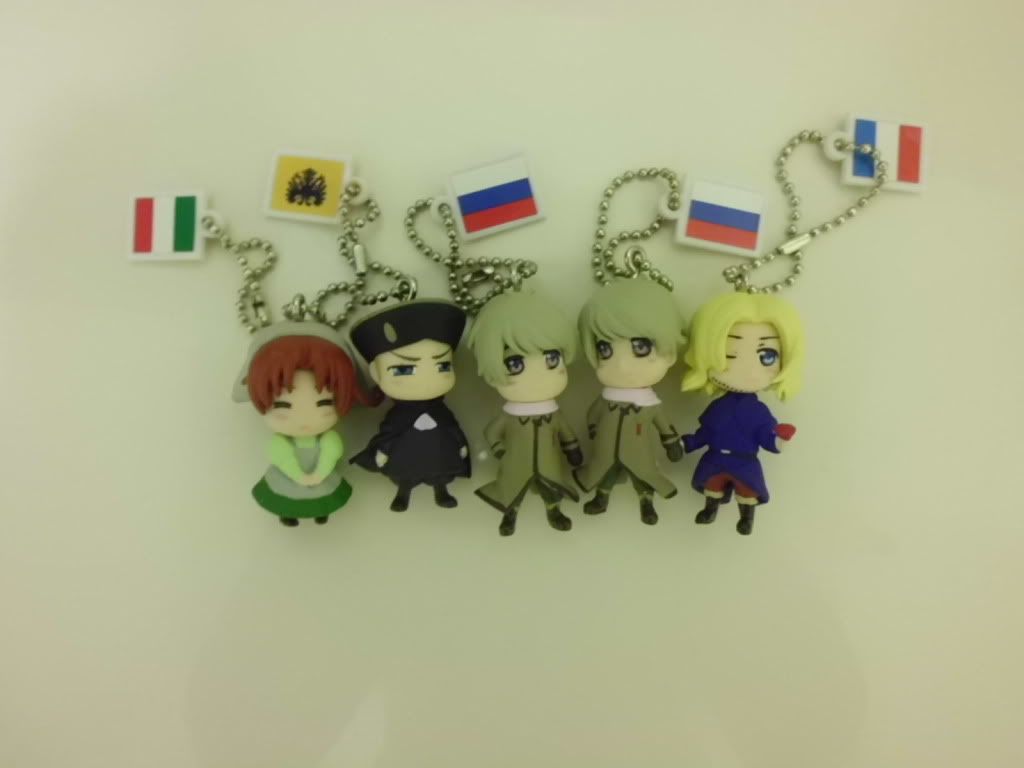 Chibitalia x1
HRE x1
Russia x2
France x1

paint it white mug:$20 SOLD


heroes curry:$9


costers: $2 each Spain/Romano sold