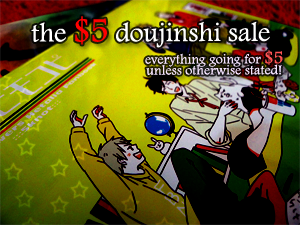 [18 Hetalia doujinshi for sale]



★ The condition for all items ranges from very good to new.
★ The largest doujinshi you can see in the images below are B5 in size.
★ Prices are in USD and do not include shipping.


All items $5 unless otherwise stated.
Special prices will be in green, e.g. item E-3 is $7.





| | |
| --- | --- |
| | E |
| | |
| --- | --- |
| | F |



You can ask questions about particular items if you wish to know more (e.g. page count, pairing, condition, etc), but I may not be able to answer if I'm too busy.
If someone else decides to buy the item before I get back to you or before you come to a decision, the item will go to that other person (first-come-first-serve rule).
★ Therefore if you wish to purchase something, please use definitive terms like "I want XX", instead of merely asking how many pages there are, how much will shipping be, etc.


[ SHIPPING ]

★ Prices do not include shipping. Items will be shipped from Singapore. By default, book(s) will be wrapped in plastic and shipped in a paper envelope.

★ Additional shipping options include: 1) cardboard, 2) registered mail ($2 extra). Please specify in your comment if you want any of these.
(On a side note, I will not be responsible for lost/damaged mail if you choose not to have it registered/protected.)


[ HOW TO BUY ]

★ Preferred payment method is Paypal (5% fee). Payment should be sent within 2 days unless you have informed me of any delays in advance. I can accept concealed cash as a last resort but I will not be responsible for any payment that gets lost in the mail. (For Singaporeans: meet-ups possible in Central/East area.)

★ Please leave a comment with your email address and country if you're interested in anything. :D For clarity, please list items in the following format: E-7, F-2, etc.

★ I would prefer not to hold anything. I can hold items if you want, but if someone who is willing and able to buy the same item on the spot comes along, the item will go to that person.

Buyer feedback here

Other sale pages:
Sengoku Basara
Tiger & Bunny
Uta no Prince-sama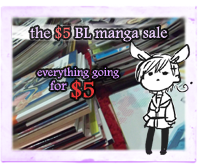 ~ Thank you ~