Hi there~ Um, some weeks ago I got this idea for a fancomic revolving around Latvia, Baltics and Russia+Baltics that just wouldn't leave my head, and in the end it made its way onto paper in sketch form. Though the story is so long it's a bit unlikely I'll ever get it finished as I'm the slowest artist in the universe, I love Latvia too much not to draw at least some of it and have got 14 pages finished so far. Though it's only something like an epilogue and there's nothing major happening yet I thought to share them. (Though now I'm feeling all shy as there are so many great artists in the community and some of the pages here are quite fail, do go easy on me >v<;;)

Title: Mana Brīvība
Artist: Kata (that's me)
Characters: Latvia, Estonia, Lithuania, Russia
Rating: PG
Warnings: Some violence, inconsistent style and quality, Estonia looking like a dork and artist's lazyness to draw shoes
Summary: Latvia hates being under Russia's rule.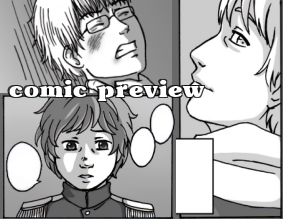 Random notes:
* Read from right to left. I originally meant to make it left to right but when looking at the sketches realized that the reading direction changed pretty much page by page XD;; In the end chose this direction as one page didn't flow as well the other way.
* The title means "my freedom" in Latvian, thank you
banshee_tao for helping with it!
* English is not my first language, so feel free to point out any mistakes.
* This was my first time drawing several characters (Lithuania sob) which may show and I seem to have re-invented all the laws of shading and consistent source of light and perspective. UH LET'S IGNORE THAT OK?
* I never really cared about history before Hetalia, so I wasted 20 years of history classes doodling in my notebook. Thanks to that there's most likely going to be some sort of errors even though there's no clear time of history set for this epilogue (just somewhere before their independence). So, if you already spot mistakes you can point them out, but please be gentle. (>v<;;)




That's it so far, thank you for looking! <3

Also a question for you Pixiv users: does anyone know how to submit several images as one submission like this?

As this is pretty much the first time ever I've gotten a multi-page comic drawn (I've always loved sketching and planning them but never before has one gotten as far as inking), any comments are very, very appreciated. m(_ _)m Thank you!