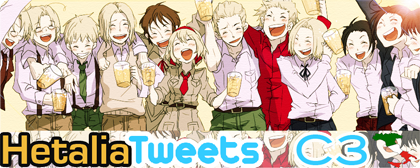 HetaliaTweets C3!
'Sup guys.
If you're looking for simple, fun and real time Role-play, then
hetalia_tweets is for you !

What Circle 3 offers you;
• Quick and Easy Role-playing via Twitter.
• Announcements and notices via Livejournal.
• New Friends! Seriously, you'll meet the best people ever.
• Friendly and Understanding players who will help if you have any questions. And love you.
• No Characters Apps needed!

If you have any other questions, please click the cut and they'll most likely be answered !









hetalia_tweets has a variety of role-playing circles that focus on Livejournal as a tool for updates and notices, and Twitter for the actual real time Rping.
Though many think that Twitter is scary and difficult, It's actually rather easy. And with the help of our very welcoming group that is already around, it'll come to you no problem !

We are currently looking for characters like;
France, Seychelles, Latvia, Norway, Liechenstien and others!
And we do accept OCs!
There will probably be more available characters because of in-actives later on.

Now, there are a few things to remember~
• There is a two week rule. Meaning if you claim a character, and are not active for two weeks without saying something (i.e; School is keeping me very busy, posting may be scarce) there is a chance your character will be given to someone else. (Not with out warning to you, of course!)

• Which is why posting in the Contact list is very important! So we can talk all the time <3

• If you feel intimidated in anyway (joining a new rp can be scary!) Feel free to talk to me, or any other member that you think is nice.

You want to join. Now What?
If you have decided that you'll give us a try, then there a just a few things that you need to click and type !

First; Check out our Master list !
Second; Pick a free character and make a Twitter account !
Third; Post your Twitter name, along with the character that you have chosen on the master list as a comment !
Fourth; Post in the Contact List

And BAM you're in !

Now, another thing.
You are most probably going to need an AIM account. Or a messaging system that allows IMs to and from AIM recipients.

Which brings us to this;
If you have any further questions or concerns. Don't hesitate to contact me at Aim; aleekinsbear or
Email; iruleyourbum@hotmail.com

Thank you, and I really hope you guys decide to join us !

P.S; If your character happens to be taken, please don't hesitate to take a look at C2 ! Here's the list ! Thank you!